"Alone we  can do so little: together we can do so much."
Helen Keller
The Portland Memory Garden
A Community's gift to those living with Alzheimer's disease and their caregivers.
Not Just Another Garden.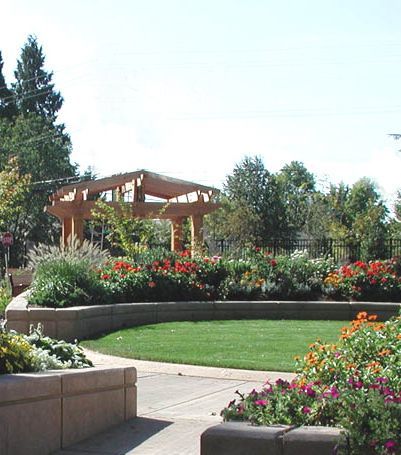 Designed to create new memories, as well as bring back fond memories from the past, the garden is a beautiful place for anyone to visit, but for those with Alzheimer's or other forms of dementia, there are many very special features.
The entry to the garden provides a slightly raised overlook area that allows visitors to preview the layout of the entire garden before entering. Once inside, the pathways are smooth and form loops without confusing dead-ends.
The covered entry structure and arbor provide landmarks.
There are many places to just sit and enjoy the garden. Benches are provided in a circle around a central stone planter, and along the outside of the main pathway, providing many different views.
Plantings evoke childhood memories. Many plant varieties common in older gardens are featured to spark pleasant memories of the past.
The rich botanical collection provides four seasons of sensory stimulation, including plants that are interesting to look at, touch and smell.
Phase 2 included a public restroom and tool storage.
The Portland Memory Garden was a demonstration garden project created as part of the "100 Parks, 100 Years" centennial celebration of the American Society of Landscape Architects. This secure garden is located in a city park to serve people of all ages.
The Development Team
Many different organizations came together to make this garden a reality: The American Society of Landscape Architects (ASLA), the Alzheimer's Association, The Center of Design for an Aging Society, Legacy Health System, Portland Bureau of Parks and Recreation, and the Institute on Aging/School of Urban Studies and Planning at Portland State University. They all also worked closely with the area's neighborhood associations to develop a design that was responsive to the needs of their community.
The team was particularly strong due to the cooperation of many different disciplines, including landscape architects and designers with prior design experience in planning sensory and therapeutic gardens, as well as a horticultural therapist and an environmental psychologist, a specialist in design for older adults, and experts in Alzheimer's disease.
Home for a Lifetime
Project Description:
Two new attached homes built and attached to an existing home in Portland, Oregon.
Purpose
The Home for a Lifetime Project demonstrates an approach to building homes which is sustainable for the environment and the building's occupants throughout their lives. Few identify the common solutions that are shared by both of these growing trends. Both demand a holistic approach to home design and construction. To maintain their independence older adults require access to public transportation and close proximity to goods and services. These amenities are found in urban areas. However, the majority of older homes are not wheelchair or walker accessible. Attached housing or row houses appear to be the common solution for in-fill housing to meet the requirements for increased density in the inner city. However, to our knowledge, there are no local examples of in-fill housing that are wheelchair accessible. 
The Home for a Lifetime places the emphasis on the needs and quality of life for all those who live there throughout their life span. Thus older adults will be allowed to age-in-place, to remain in their neighborhoods, and interact with people of all age groups, rather than being isolated in a senior community. In a recent AARP poll, 84% of those questioned expressed a strong desire to remain in intergenerational neighborhoods. Children and young adults need the wisdom and time that elders have to offer. Everyone benefits from maintaining these relationships.
Before

After
Alternatives to Retirement Communities
The Village Concept: This began in Boston's Beacon Hill neighborhood in 2002.  A Village is more of a plan than a place and can exist in your neighborhood. It's a group of like-minded people who live near each other and are willing to engage local seniors in volunteer and social activities. The Village
Co-Housing:  Cohousing is an intentional community of private homes clustered around shared space. Households have independent incomes and private lives, but neighbors collaboratively plan and manage community activities and shared spaces. The legal structure is typically a homeowner's association or housing cooperative.  Cohousing usually involves a small number of homes in any arrangement—single-family houses, attached or detached townhouses, condos, and sometimes apartments—that are grouped closely together. Often, there is a common building, house, or room in the middle with amenities and spaces that residents share. If extra land is available, a place for cars might be located on the periphery to encourage walkability and more togetherness.  Today there are almost 170 suburban, rural, and urban examples of cohousing in the U.S. and another 140 are in the development stages. These links will take you to current articles about this growing movement.  Co-housing  New options for collective housing
Designing Public Buildings for the Visually Impaired.
The National Institute of Building Science formed a committee to develop Guidelines for the Design of the Visual Environment.  The committee was made up of NIBS staff and officials, vision specialists, architects, mechanical engineers, lighting designers, and organizations for those with low vision. View those guidelines here.
The following images demonstrate problem areas for those with vision impairment.
The following images demonstrate problem areas for those with vision impairment.