"The more we learn, the more we know."
Anonymous
Check out our webinars
Ms. Noell-Waggoner has traveled widely making presentations before organizations concerned with overseeing the development of senior residential communities.  In order to reach an even broader audience and also share her recommendations with those looking to adapt their own homes for aging in place she has also recorded a number of webinars which can be viewed here.
Topic-related resources are listed below.
Light for Health
D. M. Berson, F.A. Dunn, M. Takao, 2002, Phototransduction by Retinal Ganglion Cells That Set the Circadian Clock, 2002, Science, Vol 295, pp 1070-1073.
 K.Konis, 2018 Field evaluation of the circadian stimulus potential of daylit and no-daylit spaces in dementia care facilities. Building and Environment 135 (2018)
Naomi J Miller, Eunice Noell-Waggoner, Rosa Baier, Jessica Collier, David Gifford, Ellen McCreedy, Caroline Mills, Scott Stringer, Rebecca Uth, Terrie Fox Wetle, 2019, Measuring Light Exposure and its Effects on Sleep and Behavior in Care Center Residents. Prepared for: U.S. Department of Energy under Contract DE-AC05-76RL01830.  Pacific Northwest National Laboratory, Richland, WA 99352.
Senior Long-term Care Centers
White house takes aim at private equity ownership
Alternatives to Retirement Communities
Beacon Hill Village concept creates local communities to support aging in place
Cohousing-builds-active-communities  
Architects paying attention to co-housing trend
Public Spaces
National Institute of Building Sciences' Low Vision Design Program, Design Guidelines for the Visual Environment, (for download)
Aging Vision:
 Technical document with recommendations for the practice of lighting and the visual environment for older adults.
Download here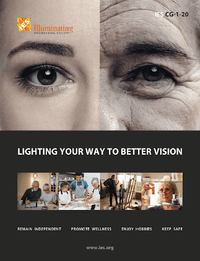 View brochure re Lighting Your Way to Better Vision published by the Illumination Engineering Society.